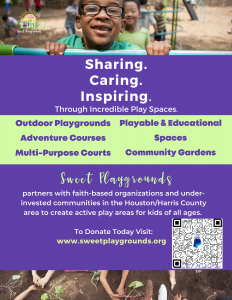 WE HAVE BEEN SELECTED FOR SWEET PLAYGROUNDS FIRST HOUSTON TRINITY GARDENS PROJECT!!!!
Sweet Playgrounds provides safe play areas for children of all ages to create opportunities for positive playful moments necessary for the development of young bodies and minds.
Sweet Playgrounds identifies communities in need of safe play spaces for children in under-served communities. Sweet Playgrounds partners with local community members and children to understand the needs, desires, and motivation for improving their community. With this goal in mind, they seek to collaboratively design and build exciting play spaces that incorporate athletic play, STEM-based opportunities, and creative activities. The "all hands on deck" approach encourages community pride and ownership as community members play an integral part in bringing their surrounding to life.
"I have shown you in every way, by laboring like this, that you must support the weak. And remember the words of the Lord Jesus, that He said, "It is more blessed to give than to receive." Acts 20:35
What has happened so far?
On January 15, 2021, Sweet Playgrounds walked the proposed job site at Emmanuel Church of God in Christ and the playground areas were selected.
More information on this job is to be announced.
Selections:
Playground, Multipurpose Court and Community Garden
Project Manager:
Wylie Construction Services LLC.
Want more information? Visit their website! www.sweetplaygrounds.com